Last week we were honored to host our 9th annual fundraising dinner — Nourish, presented by Kroger Zero Hunger Zero Waste — raising over $160,000 to support our mission! Beyond raising funds, this is a special time to share joy and connection over a beautiful meal and celebrate this shared work with so many friends, volunteers, community members, and supporters. And, like each of the meals we create and share from our kitchen, Nourish is a chance to build relationships with those across the table and build a community of compassion, solidarity, and belonging.
We are incredibly thankful for the beautiful dishes prepared by this year's inspiring lineup of chefs! Our lead chef team was Sarah and Karl Worley, chef-owners of the popular Biscuit Love restaurants, and forthcoming 'Za - a pizza joint in Hillsboro Village. The Worleys have long inspired us not only for the quality of the food they turn out, but for how they run their businesses and support their employees. In fact, Food and Wine magazine named the Worleys and Biscuit Love as a national example of how to do radical care and compassion in the restaurant industry — an industry known for grueling physical work, long hours, abuse and low pay. They've supported us in so many ways, and having them at the helm of Nourish 2019 was yet another testament to how deeply they care about our work and our Nashville community.
To complete the meal, Karl and Sarah invited the chefs who inspire them: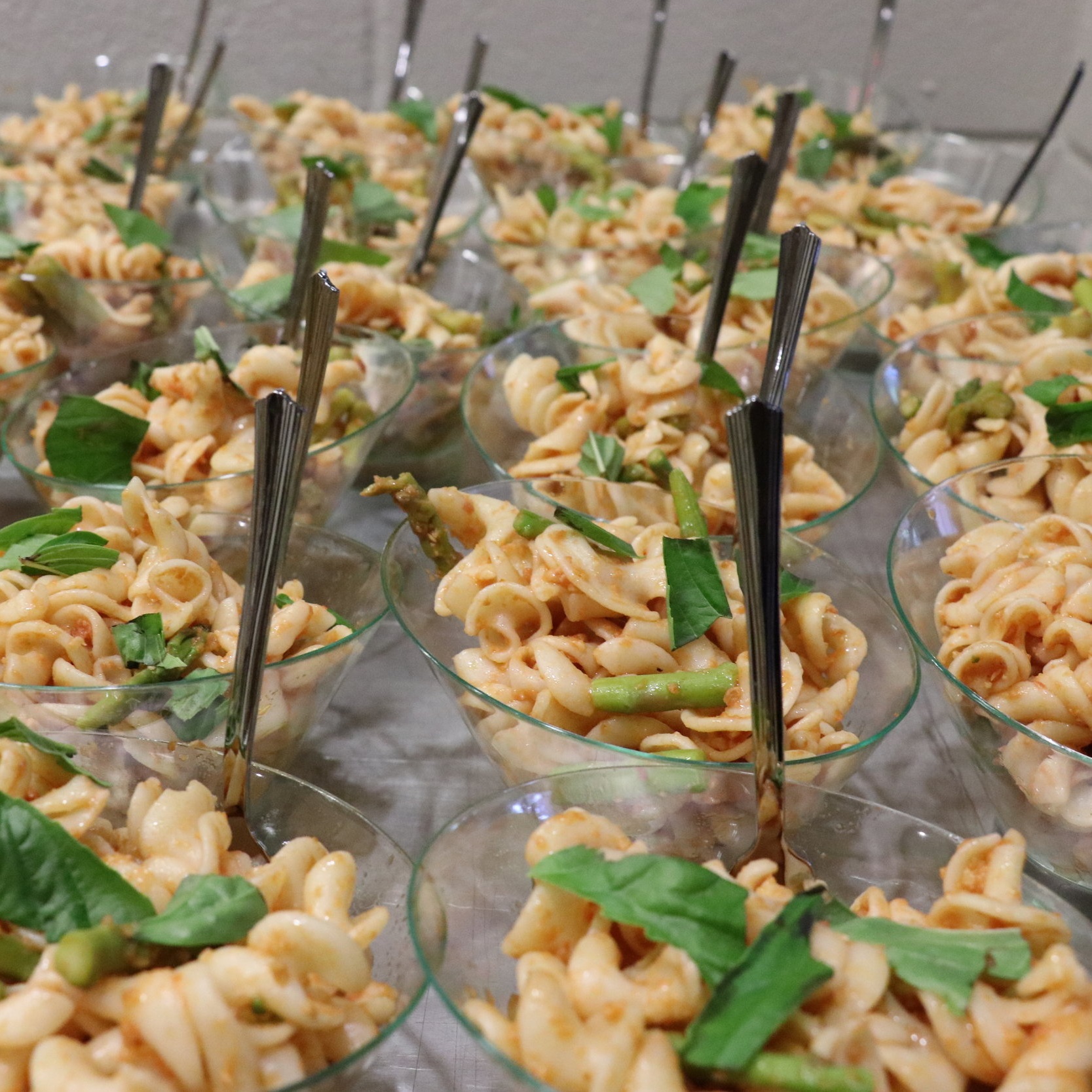 Cold Fusilli Pasta Salad, by Charlie Hilly and Sarah Hadzor
Charlie hosted a pop-up called Namaste Y'all at age 13 and continues to inspire through his dedication to his own learning and development of his own craft.
Fennel Salad, by David Dawson and Karl Worley
A mentor for Karl in culinary school at Johnson & Wales, Chef David Dawson worked with Thomas Keller as executive sous chef and led the opening culinary team at Euro Disney.
Red Beans and Rice with Cornbread, by Pableaux Johnson
New Orleans-based writer, photographer and author models hospitality and community as host of "Red Beans Roadshow."
Green Masala Trout with Warm Heirloom Tomato Salad, by Asha Gomez
This Atlanta-based chef and author works passionately with the United Nations and the James Beard Foundation to reduce global food insecurity.
"Ice Cream Cake," by Lisa Marie White
Marsh House and L.A. Jackson's Lisa Marie White inspires with her top-notch pastries and the passion and joy with which she brings to new experiences.
The Why
The Nashville Food Project's mission is bringing people together to grow, cook, and share nutritious food, with the twin goals of cultivating community and alleviating hunger in our city. It was a mission cooked up from scratch, trying in our earnest ways, to chart new territory and bring about, at least locally, a community food system in which every Nashvillian has the food they want and need. Not a band aid for this social wound. Not another charity. But community food work that is nourishing, culturally appropriate, rooted in justice, aligned in partnerships where the power is shared, with meaningful inclusion of those most in need of the social change we are after.
On the night of Nourish, we shared this video update:
The Thomas Williams Golden Skillet Award Winner
Congratulations to Billy Bird, this year's Thomas Williams Golden Skillet Award Winner!
In 2017, we unveiled an award established in honor of one of our founding board members. Thomas Williams, who created this yearly celebration we call Nourish. The annual award in his name acknowledge someone who has boundlessly, beautifully supported The Nashville Food Project, in ways that are beyond measure.
This year's award recipient, Billy Bird, has been driving the streets of Nashville in food project vehicles since 2009. For a full ten years he has arrived willingly, generously, open-heartedly to share scratch-cooked meals with Nashville residents and the clients of our partners during lunch time. His spirit is contagious. His laugh is big and his heart is bigger. He engages with everyone around him, no matter who they are or what they've been through. He has a way of setting others at ease with his welcoming personality. When we make decisions he doesn't like, he tells us. When the meal hits the spot, he reports back. In all these ways, he is the best kind of volunteer. Reliable, devoted, cheerful, willing, and generous.
This summer he's increased his long-standing two-times a month volunteer commitment by coming in to cook in our kitchen at St. Luke's Community House. If he is half as competent in the kitchen as he is engaging with people in our community, then we are in good hands. His presence and generosity have been enormous blessings in the life and rapid growth of our organization. And ten years in he's still so genuinely interested and invested in the work we do, and he shares his excitement for it in the way he lives and loves other people.
Thank you, Billy, for all that you do for The Nashville Food Project and the Nashville community!
The Sponsors
Nourish would not be possible without sponsors to underwrite the cost of this event. We would like to thank…
Presenting Sponsor
Kroger Zero Hunger Zero Waste
Longtime Nourish Sponsors
First TN Foundation

Jackson National

Vanderbilt University Medical Center

Dorothy Cate and Thomas Frist Foundation
in-kind sponsors
Lipman Brothers

Creation Gardens

Lodge Cast Iron
We are so grateful for the compassion and support that all of our sponsors have offered The Nashville Food Project!
The People Behind It All
We want to give our sincere thanks to this year's event co-chairs for helping us pull together an incredible lineup of chefs, the loaded down silent auction, and a really special live auction — Mara Papatheodoro, Natasha Powell, and Cindy Wall — along with Director of Marketing and Development Teri Sloan and Culinary Community Liason Jennifer Justus.
The Nashville Food Project has been blessed from the beginning with thoughtful, compassionate leadership from our Board of Directors. Thanks to our Board for their generosity, time, wisdom, insight, relationships, guidance!
This life-giving work is made possible by the wonderful community that supports us daily through volunteering, food donations, and financial contributions. To learn more about ways to get involved and support, visit thenashvillefoodproject.org.