By Jennifer Justus, TNFP Culinary Community Liaison
Thanks to a generous food community and your support, we've hosted two sold-out Simmer dinners in our community dining room recently. We're grateful as funds raised at these pop-ups go directly back to our work, and we've been thrilled to see community cultivated over these special meals.
In April, Executive Chef Katie Coss from Husk took over our commercial kitchen with her crew to prepare an epic "Ode to Meat and Three." She incorporated an Asian twist thanks in part to produce from TNFP's Growing Together farmers. But more like a "meat and 10," the courses flowed beginning with passed appetizers — crunchy bites of shiitake lettuce wraps, ham pimento cheese tea sandwiches and cups of shrimp and grits. A salad course highlighted strawberry season and then family-style platters of Thai barbecue Boston butt hit tables with bowls of Tokyo bekana Slaw and other dishes alongside rolls slick with butter and flecked of benne seeds.
Then earlier this month, Top Chef alum and Nashville native Arnold Myint paid tribute to his mother Patti Myint who opened International Market & Restaurant (Nashville's first Asian restaurant) in 1975. A pioneer as both woman and immigrant in the industry, Patti passed away in October 2018 and inspired Arnold to take a trip to Thailand, which inspired his menu. It began with pork floss wrapped inside betel leaves and studded with peanuts and whole chopped lime, and it ended with a dramatic coconut soup garnished with edible flowers, ruby water chestnut boba and lychee agar jelly. In between, a bevy of dishes brought Thai tradition and a family's journey to the plate with five-spice duck, trout with curry custard and more. Chef Arnold will serve a version of the menu at the James Beard House in New York City later this month.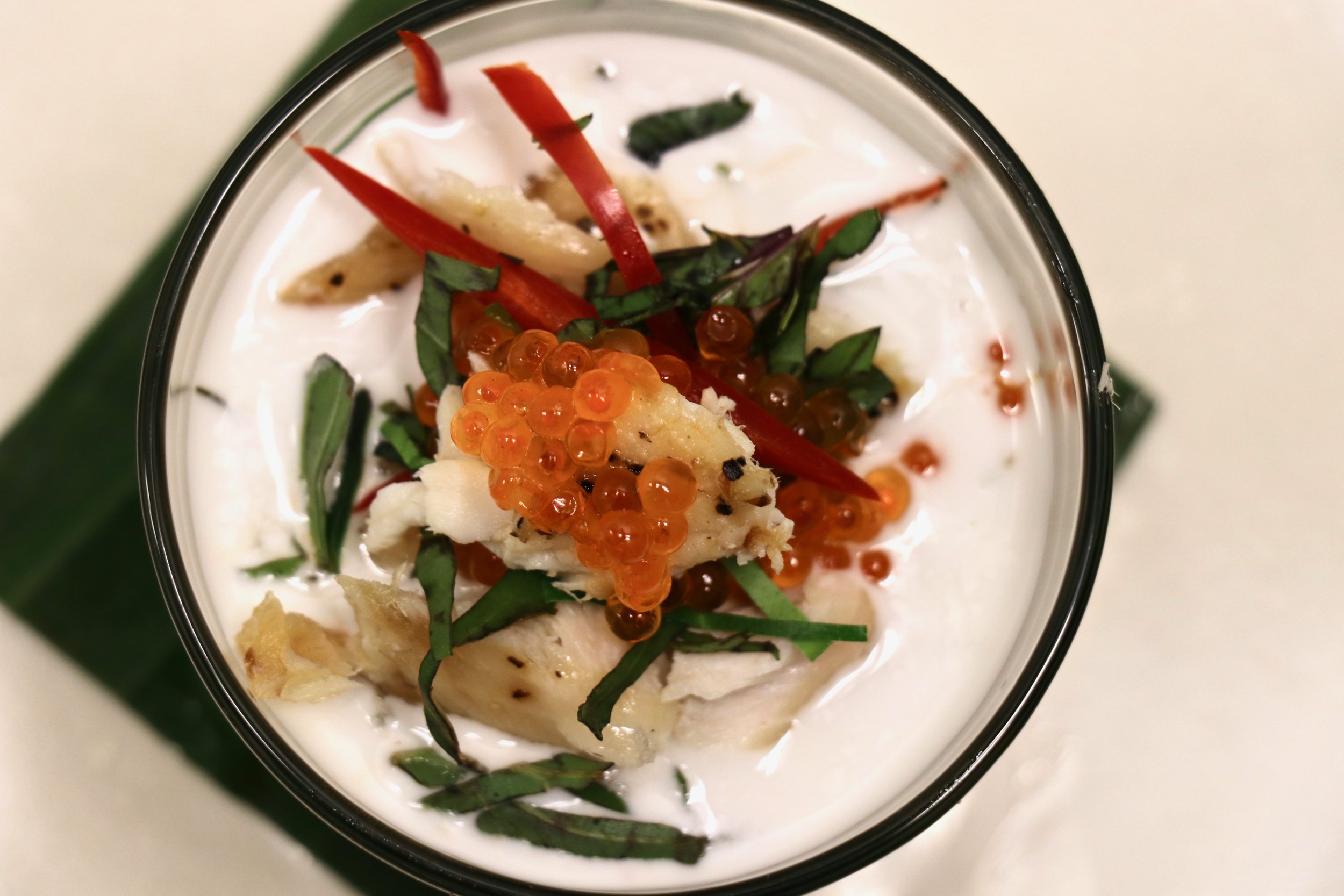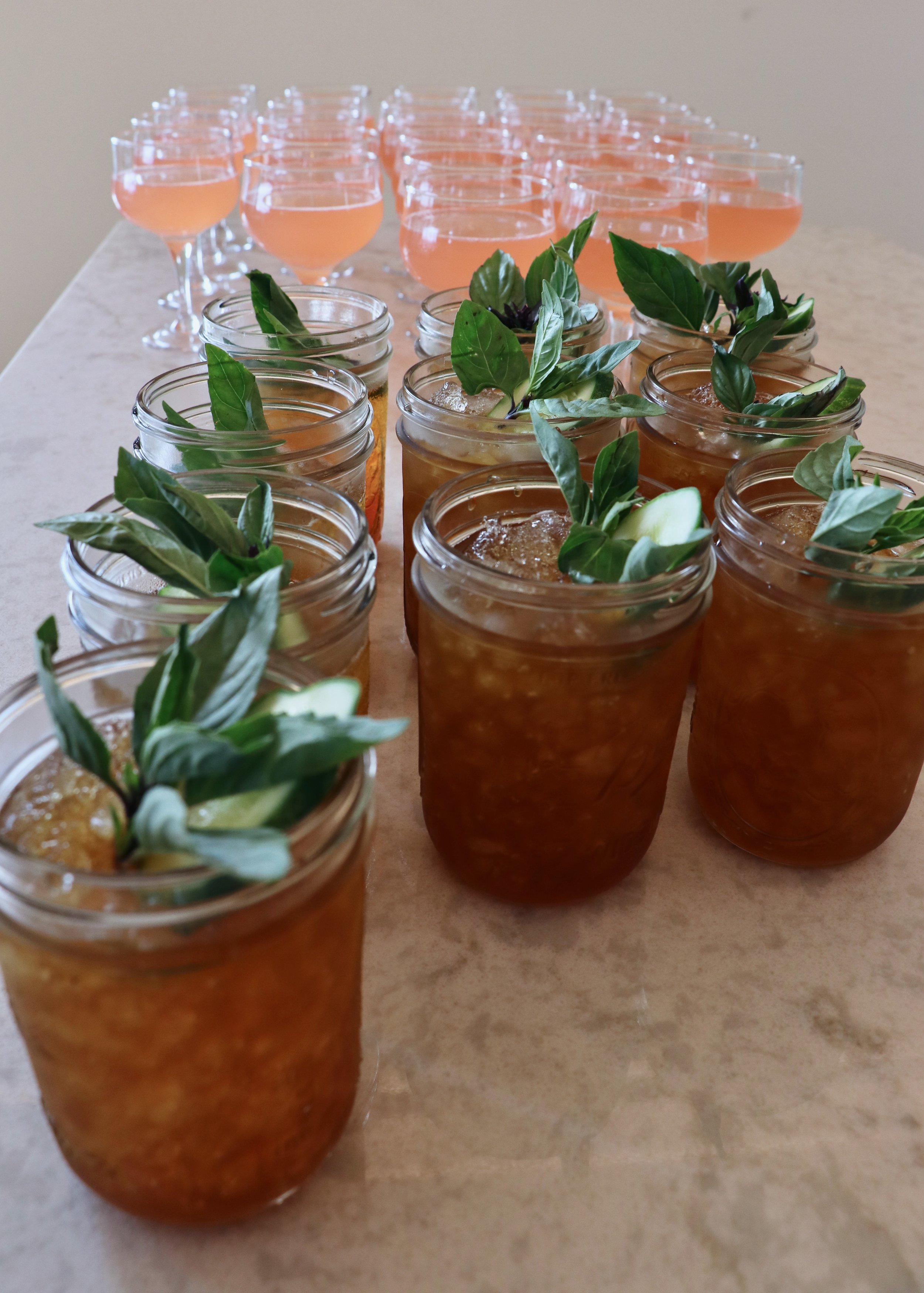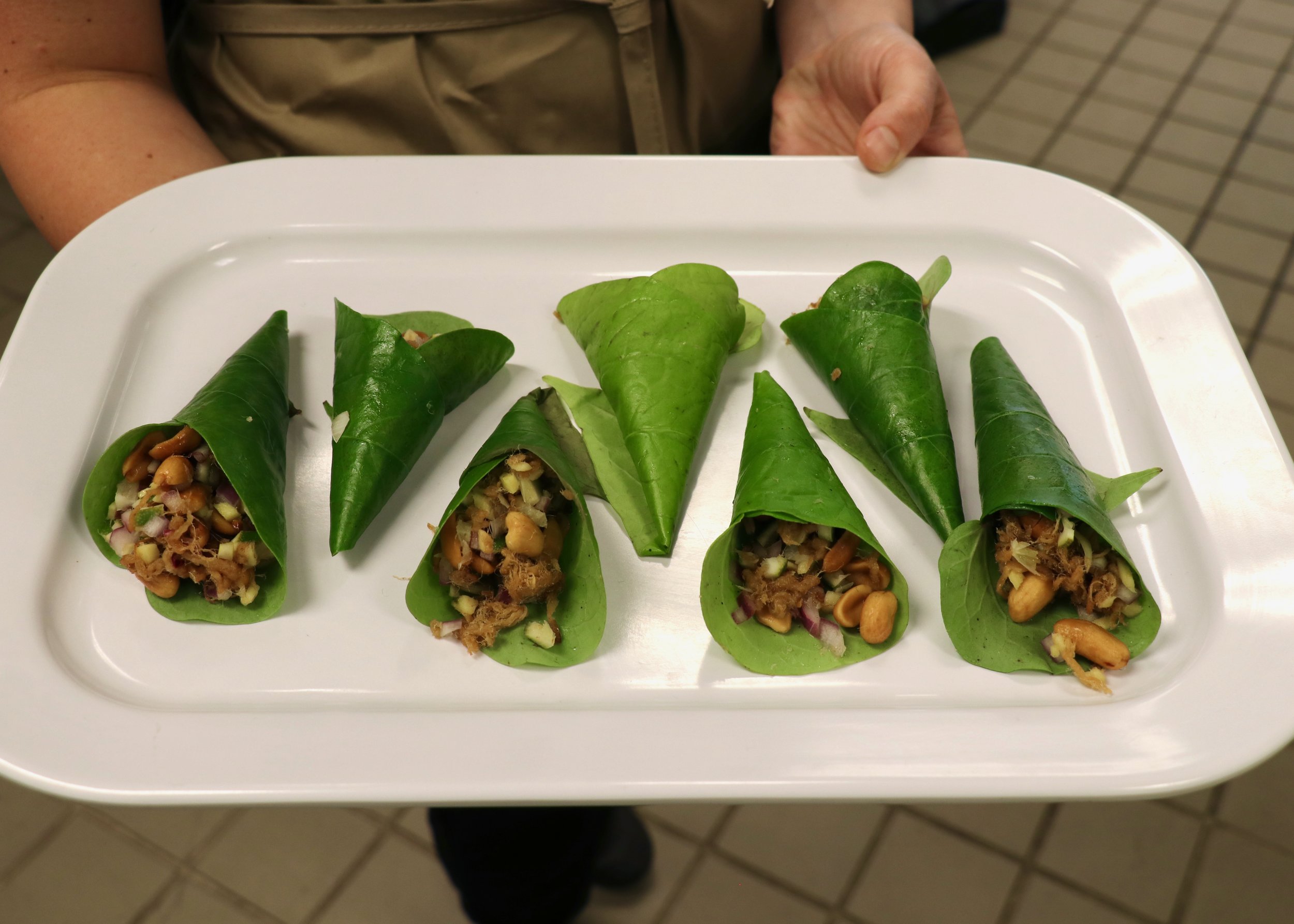 It has been a thrill to see our kitchens turned into a sea of plated finer dining cuisine, and the food at all the Simmer dinners has no doubt been phenomenal. But beyond that, we've also loved the stories shared behind these dinners and the bridges built between the restaurant community and our work.
Arnold Myint gave an emotional toast to his mother who helped inspire him to give back. Guests shared stories too including one diner who said he has been eating for 40 years at International Market — a testament to its long run as community gathering place.
Chef Katie of Husk also shared stories at her dinner. She spoke about an appreciation for local farmers, which came through in every course including succulent ribbons of shredded pork donated by Bear Creek Farm. Then over mini Mason jars of banana pudding, she talked about her path, which included a background as a ballerina. Her former job required her to stick to a strict meal plan, but Katie also kept a beloved copy of a Better Homes and Gardens Cookbook. While rehearsing, she said she would daydream about meals she wanted to make, and sometimes she baked cakes to stash under her bed. Looking back now, it seems a career in the kitchen—a different sort of dance—was inevitable.
The morning of Katie's dinner, the following article appeared in Forbes:
"How Nashville Is Becoming an Inclusive Magnet for Women Chefs and Restaurant Owners." 
It told stories of Nashville restaurant matriarchs like Chef Margot McCormack of Margot Cafe, Chef Deb Paquette of Etch and celebrities like Chef Maneet Chauhan. But it also included a newer guard such as Chef Katie, who took the reigns at Husk restaurant (previously associated with international superstar Chef Sean Brock) late last year.
Had the story been written earlier, it might have included Patti Myint and her legacy too. And while Patti would have no doubt been proud of her son Arnold at his dinner, we can't help but imagine how she would have been proud of Katie, making her way as a women, in the restaurant scene too.
Thank you to our sponsor Piedmont Natural Gas and to all in-kind sponsors including Creation Gardens, BonusBev, Athens, Lipman, Nelson's Green Brier Distillery, Bear Creek Farm and Tallahassee May for the flower arrangements.
Interested in attending future Simmer dinners? Next up we have a Sunday Brunch Spectacular with Jaime Miller of Lockeland Table, Carter Hach of Hachland Hill and Kurdish pastry chef Najat Al Zahawi on Sunday, June 23, 1:00 PM
Pastry chef Jaime Miller will host a pop-up Sunday brunch with friends including Chef Carter Hach, grandson of Tennessee culinary legend Phila Hach and proprietor of Hachland Hill Inn, and Najat Al Zahawi, a Kurdish pastry expert who also cooked with Phila Hach. Discussion will include Jaime's approach as well as Phila's legacy and influence in creating community through food.
Click here for tickets.
Springs Sorghum Simmer Cocktail
Husk Bar Manager Adam Morgan concocted this "welcome cocktail," the Springs Sorghum Simmer, which includes a generously provided nip of Belle Meade Bourbon.


For the Basil Sorghum Shrub
2 quarts sorghum syrup
1 quart basil leaves
2.5 ounces apple cider vinegar

For the Cocktail
2 barspoons Basil Sorghum Shrub
2 ounces Belle Meade bourbon
Pinch Maldon Salt
2 dashes Angostura Bitters
1. Make the shrub: Combine 2 quarts sorghum and one quart water to a sauce pan and bring to a gentle boil. Add the basil leaves and apple cider vinegar. Let steep for 24 hours. Strain. Keep refrigerated up to 2 weeks.
2. Make the cocktail: Combine 2 barspoons of shrub with bourbon, salt and bitters. Serve over ice with a twist of citrus.